Black Limestone paving - Kadappa Black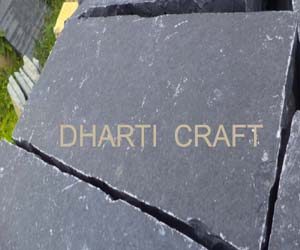 Kadappah Black limestone / Cuddapah Black also known as  Lime Black or Midnight Black Lime stone. Black Limestone paving slabs is  a rough textured surface black coloured limestone is the excellent feature of this limestone.  Kota Black Limestone paving is quiet hard & is easy to cut and carve into desired size. Physically, Limestone is quite resistant, hard, compact, fine to very fine grained calcareous rocks of sedimentary nature. Indian limestone paving black is especially preferred to other limestone owing to its extraordinary stain moval ability. Natural Black limestone paving slabs are regularly used for interiors as well as exteriors. This stone is recommended for heavy traffic areas due to its strength and hardness. We offer exclusive quality of Indian Black Limestone that adds a graceful touch to living and working area.
Black limestone paving Applications:-
The surface of black limestone paving, apart from the occasional riven is very flat and uniform. The surface combined with the consistent black color makes it suitable for contemporary gardens and landscapes. Cudappah Black Limestone is extremely dense & hence making the products made out of it surrounding.
The exclusive range of black limestone  is mainly used for different building purposes. Kadappa black limestone can be used for commercial as well as for residential applications like floorings, Wall Claddings, Countertops, articles, Landscape pavings, Steps, Cobbles, etc.  Black limestone has the natural split tendency hence it can be split sizes upto 2000 X 600 mm.
Cuddapah Black lime stone is one of the most popular limestones in black color available from India. It is consequently used for interiors as well as exteriors. CUDDAPAH Black Limestone is also processed into hand cut thick slabs and cobbles. Excellent workability, price, surface and numerous features of Black limestone makes it an impeccable choice for almost any project.
Buy Black limestone paving from us, Dharti Craft assure you best price Black limestone paving.
DHARTI CRAFT - Exporters, Manufacturers, Wholesalers & Suppliers of Kadappah Black lime stone tiles & Kota black limestone paving slabs, cobbles, lanters, Black pavers, origin of India.
Specifications
Classification
Indian Limestone paving
Quarry Deposit
Layered
Excavation
Hand Split Layers
Chisel Splitting
Possible
Gang saw sawing
Not Possible
Offered in
Tiles, Slabs, Cut to Size Pavements and Flags
Finishes Offered
Natural, Honed, Polished, Brushed.
Standard Specifications
Cut to size tiles 2cm and 3cm Thick
Polished, Calibrated & Beveled Tiles
Cut to size tiles 20mm and 30mm Thick
30 x 30 / 60 x 30 / 40 x 40 / 60 x 40
90 x 60*Cm / 180 x 90*cm.
Custom size also available.
Tailor-Made Specifications
Possible
Carved Articles
Possible
Recommended Applications
Interior and Exterior
Suitability
High Traffic
Consistency
Fair
Fragility
Sound
Delivery
4 weeks