BLACK SOAP STONE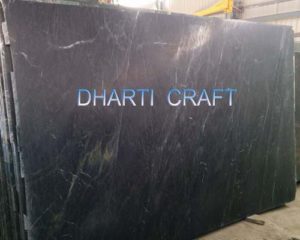 Black Soap stone  is a metamorphosed stone, easily worked igneous stone characterized by a "soapy" touch feeling.  Soap stone slabs are available especially in  Black Color. Soap stone has heat retention , chemical resistant, stain resistant and weather resistant qualities. Therefore it makes the stone an ideal stone for cladding stone and for wood fired room heaters.  Hence, as a result the stone is  consequently most useful for sinks and laboratory tops.
DHARTI CRAFT, INDIA offer Black soapstone in Polished, honed and sawn finsihes for installation in residential as well as in commercial buildings. Black soap stone from India has a vast demand in the world market due to its characteristics and its great applications.
Why Use Black Soap Stone?
The stone is available in slabs mostly and it has great properties like Soapy feeling, Heat, Chemical, weather and Stain Resistant.  Hence these wonderful quality of the stone make it especially exclusive choice for your  exterior, laboratories, Hospitals, Public places and Hotels. We recommend the use for your Projects, House, Commercial or Residential buildings for Walls stones, Floor Tiles, Kitchen tops.
DHARTI CRAFT, INDIA supplies best quality Black Soapstone Slabs in 3cm thickness regularly to the world stone wholesalers and distributors. We are exporters, Suppliers, Wholesalers and Manufacturers of Soapstone tiles and slabs from India. DC assure you best quality control, best packaging, Cheapest Shipping and quick after sales support.
Please visit us for your requirements. Please also  Visit our Stone Gallery  for more  stone choices.
SPECIFICATIONS

| | |
| --- | --- |
| Classification | Soapstone Origin- India |
| Offered | Slabs and tiles |
| Finishes | Sawn, Honed, Polished. |
| Standard Dimensions | Slabs 3cm thick. |
| | Calibrated & Bevelled Tiles 10mm |
| | 305x305mm / 305x610mm |
| | Cut to Size Tiles of 2cm thick - No. |
| | Only on special requirement. |
| Tailor Made Specifications | Possible |
| Recommended Applications |  Interior & Exterior (Shaded) |
| Suitability | Low traffic |
| Consistency | High |
| Fragility | Sound |
| Delivery | Fast |
| Packaging | Wooden Crate / Pallets |