AUTUMN BROWN COBBLES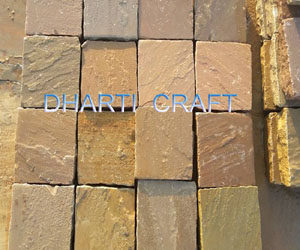 Autumn Brown Stone Cobbles or Brown Cobble Stone is a hand chiseled natural paving stone. This stone due to natural Hard Sandstone it is finally hand chiseled to slanted inside down/ tapers from top towards bottom surface which provides perfect setting. Cobble stone are processed in wide range of Sizes, Color and thickness. Cobble Stones  are used as landscaping stone for low, medium and heavy traffic areas. Hence High thickness of cobbles make it more stronger for heavy traffic areas. We process regular size of 14 x 14 cm and 10 x 10 cm. Architects and designers prepare various innovative patterns with these cobble stones to enhance the beauty of surrounding into modern as well as ancient look. Cobble stone are strong enough to hold the wear and tear of any traffic and the color combination, sizing consequently with design pattern finally increased the beauty of surrounds.
DHARTI CRAFT, INDIA present you a collection of Natural Cobble stone processed from Sandstone, Limestone and Granites.
Cobblestone is most of all a natural building stone. Cobble stone are same strong as Granite finally used for exterior flooring, drive ways flooring, pavement of  roads, streets, Garden pathways and buildings parking lots. The final conclusion cobble stone are toughest stones to sustain high traffic.
Specifications of Autumn Brown Cobbles Stones:-

Finish                : Both sides natural split
Edges                : All edges  hand dressed.
Standard Sizes: 10×10, 14×14, 10x20cm etc.
Tapering            : Top to Bottom.
Custom Size     : Available as per requirement
Thickness         : 3-5, 4-6, 5-7, 6-8, 7-9, 8-10cm.
Cobble Stones are processed from various Natural stones:-
Sandstone / Limestone  / Granite 
Sandstone cobbles colors Autumn Brown cobbles, Kandla Grey cobbles, Yellow Musk cobbles, Charcoal Black Cobbles, Mandana Red Brown Cobbles, White Cobbles, White Yellow Cobbles, Fossil cobbles etc.
Lime stone cobbles colors Kota blue cobbles, Kota Brown lime cobbles, Black lime cobbles etc.

Available Sizes : 10x10cm/ 14x14cm / 20x10cm/ 20x20cm.

Thickness          : 3 – 5cm,  4 – 6cm, 5 – 7cm, 6 – 8cm and 7- 9cm etc.
Granite Cobbles:-
Available in – Manga Pink- Red Cobbles, Grey cobbles, Black cobbles and yellow color cobbles.
Sizes – 4x4x4 / 4x4x2 / 6x6x6 / 10x7x3-4 / 8x4x3-4cm etc.
We also process Customized requirements.
Coverage Area Per 1000Kg:
40 Sq.Mtr / thickness (cm) Use Middle Thickness for calculation example for 3-5cm thickness, Use 4cm.
Pieces Per 1000Kg:
400000 / (L*B*H)CM
Packing Specifications:
Here are the Packing Specs for Crates.
1) Quantity Per crate: 1000 to 1250Kg or 1 to 1.25 MT per crate
No. of crates per container: 22-28
2) Loose Stuffing is also an option to reduce the delivered price of cobble stones.
Weight: Roughly 2.50 grams. per cm.3 or CM( L*B*H*2.5/1000 = Kg per piece).
Quantity: One 20′ container will contain 27.5 MT gross.
Finally Reach us for your requirements. Click here.