BUFF Paving Slabs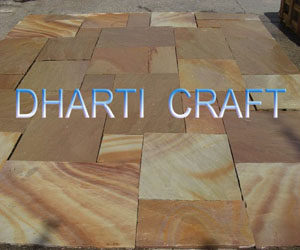 Buff Sandstone or Camel Dust Sandstone is a strong Indian Sandstone paving with pleasing tones. It is soft creamy light yellowish brown. In addition,  also have gentle random hues of golden brown running through this natural paving slabs. Yellow Buff, camel dust are the relevant popular name of Buff Sandstone Paving. It is therefore ideal for traditional, sophisticated feel to your paved area.
Indian Sandstone is a beautiful & versatile product that adds a feeling of warmth and timeless elegance. Buff Paving slabs hand selected, creates an exceptional surface.  Calibrated Sandstone paving, Camel dust sandstone with its versatile arrangement options offer endless potential to design incredible paving slabs installations. The natural highlights of  buff sandstone tiles produces amazing effect that changes subtly with both natural and artificial lighting.  Final conclusion Buff sandstone, Indian Sandstone paving is the best stone for flooring available in various colors.
Applications of Buff Slabs:- Construction, decoration of building interior and exterior.
Origin: - Buff Brown Sandstone / Camel dust Sandstone, Indian Patio Slabs is origin of India. In addition The color of this sandstone ranges from light to dark cream base with dancing layers of dark and light brown, violet.
Sizes processed for patio paving:- 60x90 / 60x60 / 60x29 & 29x29cm in 22mm calibrated back with Natural split top surface.
Finishes available :- Buff Sandstone Paving are available in Natural cleft 22mm calibrated, polished finish, Shot blasted finish, Tumbled finish and Brushed finish.
DHARTI CRAFT, India is a leading exporter and supplier of  Buff sandstone / Camel Dust Sandstone tiles and Buff slabs.  We deal in Buff brown sandstone,  paving slabs, brown sandstone. brown pavers, brown paving slabs. We also supply buff slab, brown patio slabs, buff brown sandstone, Indian sandstone  and sandstone paving.
Please contact us - Click Here.
 Specifications
Classification
Indian Sandstone
Quarry Deposit
Compact
Quarry Excavation
Block
Chisel Splitting
Not Possible
Gang Saw Sawing
Possible
Offered in
Blocks, Slabs & Tiles
Finishes Offered
Sawn, Honed & Shotblast
Standard Specifications
Random Slabs 2cm and 3cm thick

Size 200x60cm plus / 240x120cm Plus

Cut to size tiles 20mm and 30mm Thick
30 x 30 / 60 x 30 / 40 x 40 / 60 x 40cm
60 x 60 / 60 x 90cm

Custom size also available.

Tailor-Made Specifications
Possible
Carved Articles
Possible
Recommended Applications
Interiors & Exteriors
Suitability
Medium to High Traffic
Consistency
Multicolor
Fragility
Sound
Delivery
4 to 6 weeks