Copper Red Slate Quartzite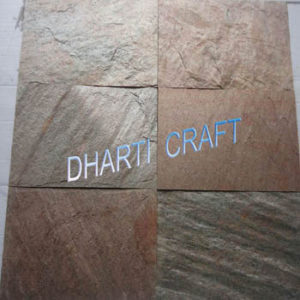 Red Color Slate, Copper Red  or Copper multi  Slate is slate quartzite origin of North India. It is warm reddish in color.  Copper red slate has lite color variation like lite pink, grey, green as a result adds natural beauty. Red copper slate in natural cleft finish shows  quite rough surface texture as most of the slates. The amazing hues within Copper Red Slate furthermore create a mesmerizing pattern almost perfect for contemporary interiors.
Copper Red Multi slate is the member of the same quartzite family  that depict three  dimensional look upon honing and polishing. Red polished slate surface displays quite unique waves & ripples creating a visual illusion of the surface being rough. In addition it is smooth to touch. Furthermore it is a soft slate quartzite tendering a very warm appeal to any surroundings.  Red draws in general attention and hence use of Copper Red  at accent locations probably focus the attention of visitors.
Applications:-
Copper Red slate is suitable for application in interiors and exterior. Red Copper slate is used as Wall facade and floor tile almost relevant for  interior and exterior. The variation in color add beauty  to the area and give a natural feeling. Finally Slate stone due to its natural beauty is consequently the best choice for wall and floor decor. In addition we recommend to seal the slate with good quality sealer for easy maintenance and especially long life. Since it is heat resistance especially it is recommended in Kitchens.
DHARTI CRAFT, INDIA is an exporter, supplier of Copper Red Multi Slate Stone tiles from India. We are Manufacturer and supplier for various copper slate products like, Copper wall panels and ledge stones, Copper slate mosaics, copper slate borders, Copper slate tumbled stones from India.
Visit our Stone Gallery for more choices and selection.
 Specifications
| | |
| --- | --- |
| Classification | Slate  Origin India |
| Quarry Deposit | Layered |
| Quarry Excavation | Hand split layers |
| Chisel Splitting | Possible |
| Gangsaw Sawing | Not possible |
| Offered In | Tiles, Slabs, cut to size |
| | Both faces natural |
| | 1)One face natural, other Calibrated 2)One face Honed - other face Calibrated. |
| Tailer Made Specifications | Possible |
| Carved Articles | Not possible |
| Recommended Applications | Interior and exterior |
| Suitability | Medium to Low Traffic |
| Consistency | Multicolor |
| Fragility | Sound |
| Delivery | 4 weeks |