FANTASY BROWN QUARTZITE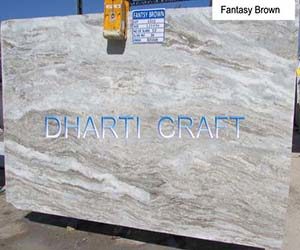 Fantasy Brown Quartzite is also known as Fantasy Brown Granite and Brown Fantasy marble in United states of America, Canada and various part of the world. Rajasthan state in India has abundance of marble deposits. Fantasy Brown marble due to its hardness called by name of Granite or Quartzite. Color – Fantasy Brown Marble has light to medium ocean type veins of light blue brown color which make it feel like ocean wave. In Addition Fantasy brown leathered granite is known especially for exclusive appearance and great texture. Hence Fantasy brown countertops improves the aesthetics of any interior and exterior. Furthermore veining and movement vary between Blocks/lots to Blocks/lots depending on different blocks quarried from different locations.
Book Matched Marble slabs – Fantasy brown Quartzite Slab :-
The texture veining pattern color makes the Brown fantasy marble book matched marble slabs, in which slab one and slab two will be cut and polished to create a mirror image of each other. Furthermore, These marble are then kept in sequence, as a result we see a consistent flow in pattern.
Resin Treated :-
It is a common characteristic for this stone to have pin holes in the raw material. Especially These tiny holes are properly filled with a polyester resin  before it reaches the polishing stages. The resin may shrink as it gets dry. The surface of the filled area come equivalent to the main surface after few layers of resin coating.  In conclusion it does not affect the durability, maintenance or beauty of the stone.  Finally, We also recommend to seal the marble surface to extend the life and low maintenance cost and life long beauty.
DHARTI CRAFT, INDIA offer Fantasy Brown Granite Kitchen, Fantasy brown leathered Granite, Fantasy brown Granite Countertops, Fantasy brown countertops in leather finish and polished finish for decorating buildings or installation in residential as well as in commercial buildings.  We recommended Fantasy brown granite with dark cabinets and fantasy brown granite with white cabinets for  Kitchen tops, Vanity, countertops, Table tops etc. The Fantasy Brown marble is available in different finishes like  Polished, Leathered, brushed antique etc.  Final Conclusion, The Fantasy brown Granite or Fantasy brown Quartzite is very strong and recommended as above.
Where does fantasy brown granite come from?
Fantasy brown granite is origin of Jaipur, Rajasthan state of India and supplied in big slab size.
Say 270x150cm to 300x200cm.
Leathered finish and Polished finish
Thickness 3cm regularly and 2cm on special orders.
What is Fantasy brown Quartzite Granite price:-
Fantasy brown Granite price or Fantasy brown Quartzite price for exports supply depends on following factors.
1.Quantity – Loadability into the container (27tonn or 21tonn)
2.Top Finish – Polished or Leathered finish
3.Thickness of Slab – 2cm or 3cm.
4.Quality of Fantasy brown Granite
The above factors decide the best possible price of brown fantasy granite.
 Indian Fantasy Brown is available in Slabs of 300x180cm plus sizes in the thickness of 3cm regularly and 2cm on special requests consequently.
Please visit our Stone Gallery or contact us for your requirements.
Related Link in addition.
Do & Don'ts for Marble                                                                                                                    Ita Gold Marble
SPECIFICATIONS of Fantasy Brown Quartzite
 

| | |
| --- | --- |
| Classification | Fantasy brown Marble Indian Origin |
| Offered | Slabs, tiles and Blocks |
| Finishes | Sawn, Honed, Polished,  Leather. |
| Standard Dimensions | Slabs 2cm and 3cm thick. |
| | Calibrated & Bevelled Tiles 10mm |
| | 305x305mm / 305x610mm |
| | Cut to Size Tiles of 2cm thick. |
| | 30x30cm, 30x60cm, 60x60cm. |
| Tailor Made Specifications | Possible |
| Recommended Applications |  Interior & Exterior (Shaded) |
| Suitability | High Traffic |
| Consistency | High |
| Fragility | Sound |
| Delivery | Fast |
| Packaging | Wooden Crate / Pallets |