SILVER GREY SLATE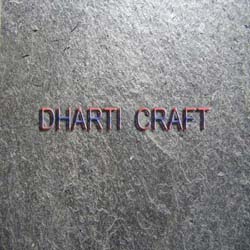 Silver Grey Slate is also called as Ostrich Grey slate  and Grey slate paving slabs Origin of India. It is one of dense quartzite slate.Hence, extremely hard and grey slate floor tiles are very much suited for outdoor use. It has a silver/gray color with very little variation. Very occasionally, you can see little veins or clouds of gold/rust on its surface.
Grey Slate paving slabs works well with most other colors as it illuminates and reflects the energy of the colors of the surroundings.
Applications Silver grey paving slabs. :-
Furthermore, Silver Grey paving slabs may be used in all kind of application, floor tiles, Wall Tiles, Exterior or Interior. Even though as a result of honed / polished it does not become slippery. Hence, it is therefore excellent choice in the bathroom.  Silver Grey Quartzite bring in a touch of individuality to your floor / wall. In addition Gray Slate tile innovative landscaping feature and thus imparting personalized accents to any Home or garden. Honed / polished Silver Grey slate displays excellent patterns & layers of mica and quartz on the surface.  The pure  silver, shine of the stone would give the surroundings a light hearten and optimistic. Furthermore, It being used in bathrooms and showers due to its excellent texture & durability.
We especially recommend to seal the Silver Grey Quartzite  with good sealer for long life and maintenance free.
Slate is good  conductor of heat therefore it is ideal to use in any area.
Dharti Craft - Exporter and supplier of Best quality Silver Grey slate Floor tiles, Slate Stone tile and Slabs with 22 years of excellent supply experience.
Please Visit our Stone Gallery for your exposure to stones.
 Specifications
Classification
Slate Stone tile Origin India
Quarry Deposit
Layered
Quarry Excavation
Hand split layers
Chisel Splitting
Possible
Gangsaw Sawing
Not possible
Offered In
Tiles, Slabs, cut to size
Both faces natural
1)One face natural, other Calibrated

2)One face Honed - other  Calibrated.

3)One face Leather - other Calibrated.

4)One face flamed - other calibrated.

Tailer Made Specifications
Possible
Carved Articles
Not possible
Recommended Applications
Interior and exterior
Suitability
Medium to Low Traffic
Consistency
fair
Fragility
Sound
Delivery
4 weeks