INDIAN AUTUMN SLATE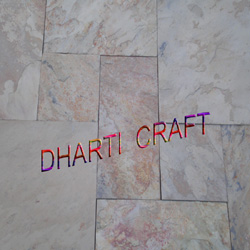 Popular name of Indian Autumn Slate Tile is Autumn Mist and Autumn Slate stone tile. It is also another beautiful buff beige colored slate characterized by bright orange and red dot-like patterns on the light background. Indian Autumn slate is primarily beige, pale and sand colors but can be accented with charcoal clouds, spots of gold, and hints of rose.  Autumn Slate Stone tile are very popular all over the world. Calibrated Slate Tiles with its excellent durability & characteristic  can infuse life into any lifeless surroundings. Autumn Slate usually exhibit lot of variations among the pieces quarried from the same pit or quarry.
Applications Indian Slate paving slabs :-
The vibrant colors and unique texture therefore makes Indian Autumn slate tile appropriate for interior and exterior applications.  Natural Slate stone tile are chemical free and allergy free therefore used for flooring and wall tiles. Throughout history, natural stone has been the premier building material all over the world. Furthermore Timeless elegance and lasting durability made Slate Stone tiles ideal in countless applications in European, Egyptian and Asian royalty. Natural stone preserves the legacies of kingdoms, families, businesses, and nations. Indian Autumn Slate tiles are beautiful color and smooth texture therefore it give a royal touch.
DHARTI CRAFT, INDIA Exporter & Supplier of Indian Autumn Slate Tile, Tumbled, Chiseled Edge, Versailles Pattern and Indian Autumn Slate mosaic tile etc. In Addition, We recommend to seal the tiles especially with good sealer for long life and maintenance free. Slate is a good conductor of heat and therefore ideal for any area. Indian Slate paving slabs is durable and beautiful. Finally, conclusion; Slate stone tile is a best decorative tiles therefore used for Wall tiles and floor tiles.
We assure best price Indian Autumn Slate Tile, contact us if you wish to buy Indian Autumn Slate tile.
Related Link
Green gold Slate Stone Tile  Silver Grey Slate Stone Tile
 Specifications
Classification
Indian Autumn Slate-Origin-India
Quarry Deposit
Layered
Quarry Excavation
Hand split layers
Chisel Splitting
Possible
Gangsaw Sawing
Not possible
Offered In
Tiles, Slabs, cut to size
Both faces natural
1)One face natural, other Calibrated

2)One face Honed - other face Calibrated.

Tailer Made Specifications
Possible
Carved Articles
Not possible
Recommended Applications
Interior and exterior
Suitability
Medium to Low Traffic
Consistency
Multicolor
Fragility
Sound
Delivery
4 weeks