MULTICOLOR SLATE TILE Jack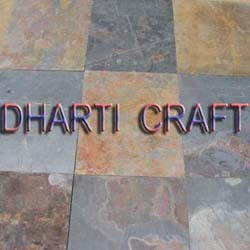 Multicolor Slate tile is from same family of Jack Black Slate split face tiles in his characterstics. The Black base color is consequently changed to a warm pleasing multi-colored Rustic copper paving slabs.  Multicolor slate tile is a deep black base with a variety of color from gold to orange to rustic-copper.  Most of all, Exclusivity  to Multicolor slate tile is that the color shows up in a variety of ways.
We especially recommend to seal the tiles with good sealer for long life and extremely low maintenance. Indian Multicolor slate tile 12x12 are especially used for creating a contemporary look with a unique finish. Rustic copper slate patio slabs have durable properties and characteristic colors. This give same as  rustic feel while still being extremely hard-wearing.
Applications of  Indian Multicolor Slate tile:-
Indian Multicolor slate tile Jack are consequently ideal for creating a beautiful feel in your buildings, hall interior or kitchen. Multicolor slate is extremely dense slate and is suitable for any  application including exteriors.  Multicolor Slate tile 12x12 are  heavily favored in rustic-style application for stone wall & flooring tiles.
Indian multicolor slate tile, can transform any interior or exterior to extremely new environment. Colored Slate is hence, finally a best selection either you want to use stone mosaic wall tiles or slate mosaic tile for floor tiles or wall tiles.
DHARTI CRAFT, INDIA is a Supplier, Exporter, Manufacturer and wholesaler of Indian Multicolor slate tile. Jack Multicolor slate is regularly processed and supplied in 12x12inch / 30x30cm to 60x60cm sizes. Jak Multicolor slate is a beautiful Indian Multicolor slate tile which enhances the beauty of any area to a contemporary  style. Furthermore, We also have various other Indian Multicolor slate tile in different size and finishes.
You may visit our  Stone Gallery for more selection of Indian Multicolor slate tile. We assure best price Indian Multicolor Slate tile. We guarantee best quality tiles if you Buy Multicolor Slate tile from Dharti Craft. Multicolor Slate is also known as Rustic copper slate patio slabs / Rustic copper slate paving slabs / rustic copper patio slabs.
Specifications
| | |
| --- | --- |
| Classification | Slate Origin India |
| Quarry Deposit | Layered |
| Quarry Excavation | Hand split layers |
| Chisel Splitting | Possible |
| Gangsaw Sawing | Not possible |
| Offered In | Tiles, Slabs and cut to size |
| | Both faces natural |
| | 1)One face natural, other Calibrated |
| Tailer Made Specifications | Possible |
| Carved Articles | Not possible |
| Recommended Applications | Interior and exterior |
| Suitability | Medium  Traffic |
| Consistency | Multicolor |
| Fragility | Sound |
| Delivery | 4 weeks |