STONE FOUNTAIN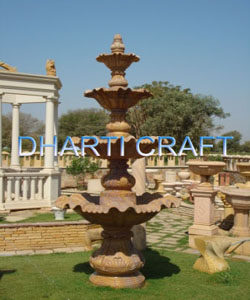 DHARTI CRAFT offer a vide range of  Stone fountain made of various colors of Sandstone. In addition Teakwood yellow, Rainbow, Mint white, Beige and Red Sandstone  in various size and design.  Our exclusive carved  Stone Fountain India or large outdoor fountains  is rare piece of craftsmanship. All the Indian stone fountain are carved especially under the guidance and quality control of skilled artisans. Furthermore which offer an exclusive range to the buyer for their full satisfaction.
Stone fountain India Applications :-

Stone Fountain indoor can be used in home or building to decorate, provide  touch of luxury and especially natural feeling. Water is out of the five elements on earth which is necessary for livelihood. Hence, Water when used with stone fountains produces a gravitation force for the public. The beauty could not be explained in words. Especially Our range of water fountains enhances the décor of exteriors of gardens, home, museums and other areas. Stone fountain for garden and Stone fountain indoor.
Exterior water fountains are used in big building exteriors, Parks, Gardens to especially enhance the beauty of the surrounding.
DHARTI CRAFT is an Exporter and Stone Fountain supplier. We furthermore assure best craftsmanship. Buy Garden fountain from us.
Packaging:- We assure best packaging of our crafted Art pieces so that the complete stone article will deliver intact to the customer. Strong wooden crates are used for packing, supported with cushion foams where ever needed. Wooden Crates may be Pat Strapped for better strength.
Order Quantity:- We entertain even one set of order as well but we recommend to order your Stone Articles with your other stones, so that these can be clubbed properly into the container for better assurance on damages. More handling of crates risk in damages.
Water fountains has the beauty to increase the look of the garden or any interior / exterior. Water fountains are available in many shape and size depends upon the various requirements. Some are used in house, some are used in gardens, some are used in big buildings, public places etc. Please contact us for your requirement.